In Australia most households have what we
call Shadehouses (greenhouses) which is a
building constructed of a frame and shade
cloth with a mist-spray watering system.
There are various designs and sizes and are
used to keep your plants away from the strong
ultra violet rays of the sun, some are also used
to resemble a rainforest look, some people also
design them around their pool surroundings to
give the look of a rainforest water retreat.

The heat of the sun along with the moisture
generated with the mist-spray gives the right
temperature and tropical environment for rain
forest plants.Not only are plants of the rain
forest grown in shadehouses you can also grow
many varieties of flowers, herbs and vegetables
also thrive in the shadehouse.

Shadehouses are easily managable and the
plants don't need as much 'tender loving care'
just a repotting from time to time, ground cover
for most shadehouses is bark and old leaves
that drop are left on the ground as compost for
the ground plants, after all you don't see people
raking up dead leaves in the rainforest. They
also help lessen the infestation of unwanted
guests...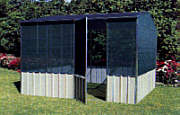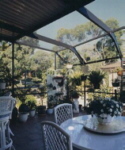 When buying a new plant for your shadehouse always repot it first. If it is infested with pests take the right measure to rid the plant of pests before placing in your shadehouse.


When buying potting soil to use make sure it is of a good quality, some potting soils are infested with the mealy bug pest. Before using the soil get the pot you are going to use, cover the holes and fill with potting mix, submerse the pot in a solution of malathion and water (directions for diluting are on the bottle), making sure not to over submerse the pot, soak for approximatley an hour then drain, leave the pot to dry out for a few days then pot your plant.


Before you repot an infested plant, wash all soil and trim roots, then soak the plant in a solution of malathion and water for approximatley half hour.


If a plant in the ground becomes infested with pests, remove the plant, then use the same method above to treat the plant. Soak the infested soil with malathion solution leave overnight before repotting the plant back into the ground. Do not leave the infected plant in the malathion solution overnight remove and place in a bucket of clean water, this will keep the plant from drying out or dying before you get to repot it.


Even if only one plant is infected always spray all other plants in the shadehouse.


Best times to water is the first sun, this allows for the moisture to build up, with the heat from the sun and the moisture in the ground it creats the right rainforest environment. Try not to water with a full sun or when extremely hot, hanging plants that are closer to the top of the shadehouse will still get water burnt.