This page of Calm is full of advice to follow and thoughts to inspire.
A path to inner peace or to regain balance in your life !!..... Use this
page to steal moments of peace and tranquility. At any time, in any
place. Follow the quotes and you will remain calm. Even in the most
difficult of moments.
~*Trust your intuition and you will become calm*~

Concentrate on the silence
When it comes, dwell on what
it sounds like.
Then strive to carry that quiet with
you wherever you go.



Hard working people never waste time on frivolous, fun-
filled activities. Yet, for hard working people, any time spent
this way is far from wasted.



As harsh as it sounds, mixing with highly stressed people will
make you feel stressed
On the other hand, mixing with calm people - even for the
briefest period - will leave you feeling calm.
There are only two ways to handle tense situations: you can
change them, or you can change the way you look at them.
There is enlightenment to be had in changing the way you look at things.



When you dwell on the sound of your breathing, when you can
really hear it coming and going, peace will not be far behind.
There's always a temptation to lump all your life changes into
one big masochistic event.
Do your stress levels a favour and take on changes one at a time.



The most important skill in staying calm is not to loose sleep
over small issues. The second most important skill is to be able
to view all issues as small issues.
Start every journey ten minutes early. Not only will you avoid
the stress of haste, but if all goes well you'll have ten minutes
to relax before your next engagement.



Most worries are future-based.
They resolve around things that, in most cases, will never happen.
Concentrate on the present and the future will take care of itself.
Make the practice of looking for the best in people and situations.
You'll find that simple approach induces optimism and positivity
- both of which lead to calm.
Leave it to others to be perfect, to be wonderful. Be content with
what you are - you'll be much more relaxed as a result.



There is seldom any rational reason for having regrets about
past deeds or events. Because the past does not exist in any way
other than in your memory.
When you recognise this lack of reality, you can be calm.
Take a lesson in calmness from children: watch how they live
every moment for the pleasure of the moment.
Pretend, and you could be like that, too.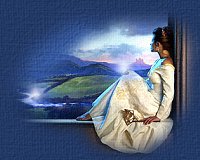 The author of these quotes is Paul Wilson, this selection of quotes were taken from one of his best selling books;
'The Little Book of Calm'
Another two of his best selling books are;
'Instant Calm' and 'The Calm Technique'
~* ABOUT THE AUTHOR *~
Paul Wilson thrives in several high-stress worlds: chairman of an
advertising agency, strategic consultant to some of Australia's major corporations, director of a hospital and father to a teenager and two young children. Instead of focusing on stress he has become an authority on calm.
Would be nice to know who has visited and found some calm so
please before you leave sign the Guestbook :o))





This page set was brought to you by:
Page was created by:
15th October, 2002

Permission was sought in the use of these quotes, if you wish to use any please
also seek the permission from the author
Copyrighted © Paul Wilson
all rights reserved
'The Little Book of Calm'
Penguin Books
Copyrighted © Pearls of Wilson, 1996
all rights reserved
Music playing: "Your the Inspiration"