This page is dedicated to all the mothers of the Past,
Present and Future....And a wish from me to my
fellow mothers...we do a damn good job!!!!
*Kimbys* 1999

**QUEEN OF THE HOUSE**
Up everyday at six, bacon and eggs to fix
Four kids from 1 to 4, pretty soon there'll be more.
I got four floors to wax and scrub
And there's a dirty old ting in the tub.
I'll get a maid some-day
But, till then, I'm Queen of the House.
No time to fix my hair, need a new dress to wear
Old clothes will have to do, 'Cause the kids all need new shoes.
I got bridge club each Tuesday night
He's gone out with the boys and gets tight.
But when the evenin's through
He comes a home to the Queen of the House.
I know the milkman, the iceman, they come everyday
They give me tips on the horses to play.
And when I've got the time to spare
I sit and wish I'd picked a millionaire.
(song by Jody Miller)


**MAMA**
Who's the one who tied your shoe when you were young
And knew just when to come and see what you had done?
Mama, oh Mama
And who's the one who patched your eye and told you not
to cry,
'Cause he was to big for you to try?
Mama, oh Mama.
And who's the one you didn't need to plead
To give her time to the little league?
It was Mama, oh Mama.
And who's the one who gave her shoulder
When you told her your first love was over,
she'd meet someone older?
Mama, oh Mama.
Who's the one who taught you obligation then
dedication result graduation?
Mama, oh Mama.
And who's the one who's shown the friends
you've known,
A home away from home when they were
tired and all alone?
Mama, oh Mama.
And who's the one who held a tear inside
When you introduced your future bride?
And who's the one who didn't mean to cry
As you walked down the aisle, the tears you
saw her smile?
Mama, oh Mama.
(sung by B.J. Thomas)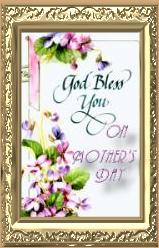 **M-O-T-H-E-R**
M is for the million things she gave me
O means only that she is growing old
T is for the tears she shed to save me
H is for her heart of purest gold
E is for her eyes with lovelight shining
R means right and right she always be
Put them all together, they spell "MOTHER"
A word that means the world to me!


What's pink and wrinkly and
hangs out ya shorts?
Your Mother!

Do you have a mother on-line?
Click on the tag and send her a card!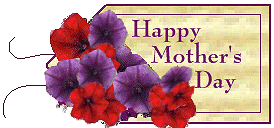 This star is for all the mothers past
to show that they are still thought of.
No mother is forgotten!!