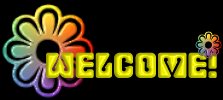 ~**Kimbys Page of pages**~
Here you will find some more of my works that i have done
over the last 2 years...enjoy your stay... :o)

If you have a dream, persue it, if it does'nt come
true then it was'nt meant to be.

The first page "To my Friends" was my first webpage i made, i have come a
long way since that page. :o))

This next page was made for a online friend of mine in memory
of his sister.

~*~ Like to see my little corner on Fantasy ~*~
Also visit my page on Powerpoint Slideshows that me and a friend have made
and that i have collected from other people, you can download these to send to
friends and family. There are Inspirational, Naughty and Humorous ones.

***Graphics brought to you by***



Hope you enjoyed your stay now you can return