!! Hiya !!
Welcome to my Family Album which consists of yours truly...ME...
and my 3 rugrats....bit of a pain with these kids growing out of my
pages, i have to keep changing the pics and info on each...maybe
to cut me having to re-change this page with each growth spurt i
should just keep them young....LOL...less hassle for me then. :o)
Oh well !! First up is of course the eldest........

~*KYLIE*~
Kylie is 18 and presently lives in the Australian State of NSW's, Yes she
finally ran away from Mummy...lol...She lives with her boyfriend, his parents
and sister. She is doing well and is happy. Kylie will be undertaking a course
for 3 years in the field of Graphic Design, she really enjoys making and also
learning about making webpages and computer graphics, she is a fantastic
artist and has a awesome love for animals..as she would say...give her a
animal before a human...lol...Kylie has a very open personality and is quite
upfront on her views, she also enjoys a good joke, specially when played
on Mum. You can check one of Kylies webpages she has done and which
she is proud of...i am too...just click on the banner below.
Also while ya here check out some of Kylie's graphic artwork i am sure
you will be impressed, just click the pic below.


Now to second in line which is.........
~*KIARRA*~
Meet Kiarra aka Widget or Bob...she will kill me for putting them...lol...
Kiarra is 14 and still at High School in which she is doing very well, she
has always been very academically minded and says she wants to be a
Carpenter, that might change again yet. Kiarra likes to read and is quite
happy with her own company...don't get me wrong she has friends just
that she don't need them to keep her happy...lol...Kiarra also enjoys art
but does'nt have the same flare as her sister. Kiarra is quite a friendly
little person.....i say little cause she is tiny for her age...she won't grow
much taller than 5' 2"...she don't like that much but i tell her good things
come in small packages...that gets a smile...lol... :o))


And third in line to the throne is little......
~*LIAM*~
Liam is 6, a Valentines baby...also known by his big sister as Leg of Lamb
or Wiggles by the rest of the family. Liam also has a friendly nature about him
and likes to play jokes like his big sister, he clashed well with Kiarra they seem
to have the same personalities...hence....trouble between the two. Liam is full
off spirit and always on the go...not good for mummy...lol...he loves School and
is quite smart in a few fields. Liam is still not sure what he wants to be when
he is older. Liam loves to read also and likes drawing and colouring in. His fav
T.V. programmes are Zoids and Pokemon...of course...lol...


Last but not least is of course yours truly.......
~*KIMMY*~
Chit there is a pic of me here...who put that there... :o)) Well this is me
i am 41 going on 21...lol...Ummm what to say about me, well, i think i have
a very friendly and happy personality, i enjoy meeting new people, like my
eldest daughter (must be where i got it from) am upfront in what i have to
say, i enjoy life even tho it has some pitfalls but is the only one i got so try
to make the best of it. I enjoy making webpages and other crafts outside
of the computer which includes making Dream and Suncatchers, Home
made cards and what ever else looks good to try. That's all ya getting for
now.... :o)))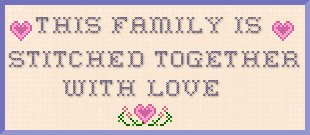 ~*FAMILY SNAPS*~
| | | |
| --- | --- | --- |
| Kiarra and Dolphin at Sea World | | Kiarra dressed up as a redback spider |
| | | |
| --- | --- | --- |
| Kylie and a Tiger | | Liam and Walrus at Sea World |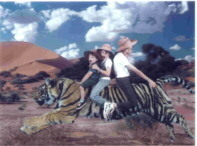 All 3 riding a Tiger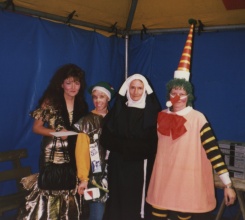 Guess who Mr Squiggle is



Please before you leave sign my Guestbook.


Thanxs for visiting with me and my family, we hope you enjoyed your
stay..... :o))
Some of the graphics on this page were brought to you by....


Page was re-designed on the 1st October, 2002