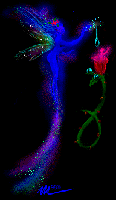 Welcome to the bottom of my garden! Glad to see you here, please be
careful where you tred, we don't want any squished fairies now do we.!
Fairies have always been the delight and fascination of many a child and
even adults...as you can see..LOL. Some believe and some don't, are
they imaginary or do they really exist, i guess the answer is in the eye of
the beholder...Do you believe.? Maybe you will leave here believing. :o)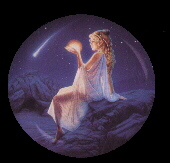 ~*The Fairy Beam Upon You*~
The fairy beam upon you
The stars to glister on you
A moon of light
In the noon of night
Till the firedrake hath o'er-gone you !

The wheel of fortue guide you
The boy with the bow beside you
Run aye in the way
Till the bird of day
And the luckier lote betide you !
~*Flutter onto my next fairy page, here you will find some information on fairies
and some more pictures*~



~*Flutter on and visit some of my fairy poems*~


These are two Awards i have received for this page

~*Flutter on back to Fantasy Corner or fly onto my Homepage*~

~*Please flutter on into my Guestbook and leave a message*~

~*This page set has been brought to you by*~

~*This page has been the creation of*~
~*Page was updated on the 23rd November, 2000*~